SOPC
FGE contributes with a very vital role in the operation of renewing SOPC Planet and enhance its efficiency with EMC as our main contractor through executing the following scope
1) Tanks Maintenance
FGE has successfully executed all required tanks maintenance activities Such as; bottom replacement, fixed roof removal and floating and fixed roof fabrication according to API 653 standard for 3 tanks. We succeeded to apply all maintenance activities for these tanks through providing highly experienced, API certified engineer and also all the required tools and lifting equipment. Our company has already extended its contract with EMC after the outstanding performance to include the maintenance of 6 other tanks at SOPC Planet
2)Shutdowns
Our company always show a positive attitude in any planet we enter. This makes us the first choice for any client we've worked with. Through our presence in SOPC, We succeeded to implement all the required activities in 2 different shutdowns in 2 MILLIONE UNIT;
1- Heat exchangers Shutdown
FGE succeeded to execute all the required activities for 13 heat exchangers according to API 510. According to Egyptian General Petroleum Corporation We proudly can say that the productivity of 2 MILLION unit has been enhanced after this shutdown
2- Furnace shutdown
The twin cell Cabin Furnace of The 2 Million Unit was stopped due to blockage in its coils. FGE succeeded to apply all the necessary actions and procedures to remove this blockage and get the furnace back in operation. Our mechanical team worked for 3 weeks on 24 hour basis in order to overcome this shut down that caused the whole unit to stop and we proudly did.
3- Paintings
One of the main Scope of the operation of renewing SOPC planet is to re-paint all the pipe racks and piping. FGE has a great role in this operation. After a proper surface preparation our company succeeded to finish the paintings of 150,000 m2 of steel structure and piping.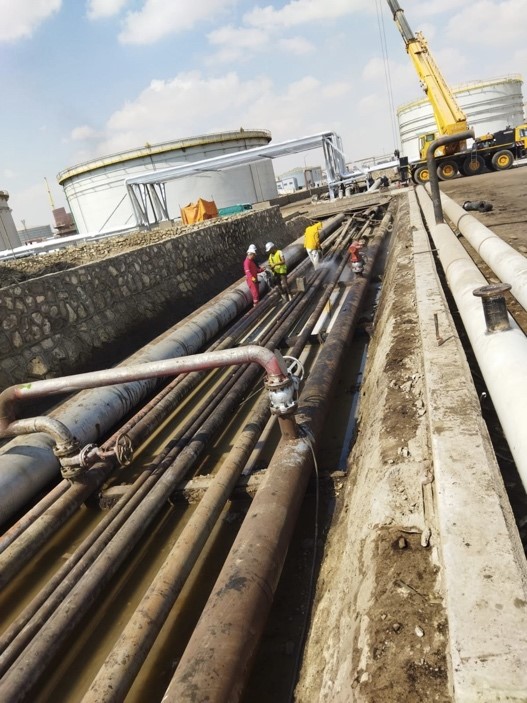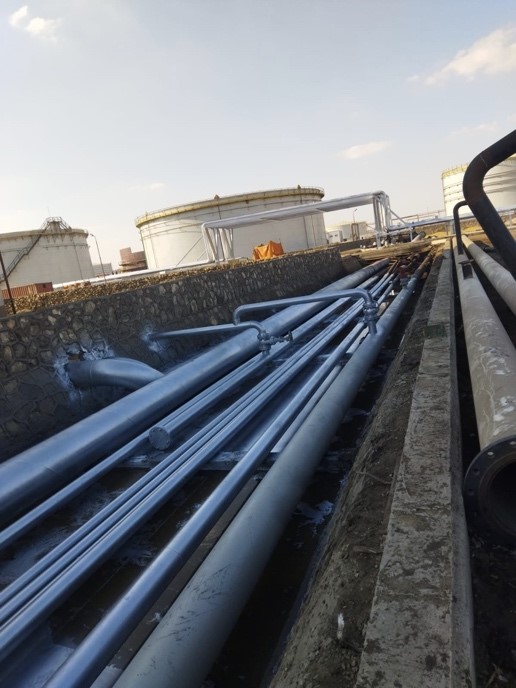 3)Sand blasting
During any operation of renewing a planet, many inspections are required for pressure vessels and tanks. In order perform proper inspection, sand swiping or blasting shall be carried out first. In SOPC Planet, FGE provides this important activity for all the static equipment. our company has performed the sand blasting activity for more than 30 static equipment in order to apply the proper inspection procedures.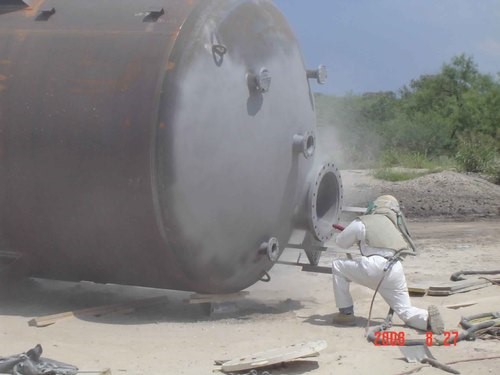 4) Cold & Hot Cutting
One of the most challenging activity in the operation of renewing SOPC planet is to remove all old piping, tanks and steel structure that are out of services. This operation is very risky and challenging specially in a red planet such as SOPC. With high safety precautions FGE succeeded to Cut more than 8,000 ton of piping and tanks steel through applying the needed cold & hot cutting procedures and transport these scrap safely to its storage area.